Brickell is quickly becoming one of the largest and most coveted business districts in the country. Its burgeoning neighbourhood of contemporary attractions and stylish eateries makes it an attractive place to reside, particularly for those who crave an urban environment characterised by innovation and energy.
Catalysed by an increased flexibility when it comes to working behaviours and conditions, the coworking industry continues to demonstrate exponential growth. The pandemic has affected the way we approach office work, and subsequently many companies are now foregoing the costly use of offices in favour of coworking spaces. Employees are joined by workers from other companies as well as freelancers and the self-employed, making it a hub of creativity and production.
The diversity of Brickell lends itself to the widespread operation of coworking, and these schemes are thriving in the area. Whether you're an entrepreneur, creator, or tech guru, Brickell coworking spaces will offer something to suit you.
---
1. BUILDING.co
Conveniently located two blocks from l-95 and mere steps from the metrorail, BUILDING is designed for tech companies and entrepreneurs. Its founders cite the desire to bring Silicon Valley to Miami as part of the inspiration for its founding, and this is more than evident in its modern, intuitive design.
Membership options range from individual, dedicated desks to the private use of entire offices for larger businesses. Aside from space usage, every membership has access to the entirety of BUILDING's catalogue of benefits, including onsite management and free beer on certain days.
In addition to BUILDING's coworking capabilities, they host regular panels and events where industry leaders and workers can come together to collaborate, share ideas, and participate in the exciting growth of #MiamiTech.
---
2. WeWork
A reputed coworking space provider across the globe WeWork Brickell is just one of its many Miami locations. Unlike the sleek, industrial design of BUILDING.co's office spaces, WeWork Brickell offers a brighter, more vibrant environment for those who work better in a creative space.
The outdoor area offers the opportunity for fresh air and a new space to work. As in all WeWork locations you can purchase the use of dedicated desks or offices, or go for the oft-discounted hot desks membership for access to WeWork desks worldwide.
Further amenities for all members include a wellness room, stocked kitchens, and an electric vehicle charging station.
---
3. Quest Workspaces
Quest has two workspaces located in Brickell, both of which are excellent choices for individuals and small business teams alike. Their services are curated to maximise comfort and productivity, while the clientele of Fortune 500 executives and industry pioneers offers you the chance to get stuck into some career-defining networking.
If location isn't a sticking point, it's recommended you choose the 1395 Brickell location, as this space is integrated with the the luxury Conrad Hotel. Here, you have access to the hotel's various amenities as well as Quest's, including a pool, gym, and tennis court. The opulent design set against the ever-exciting cityscape allows you to work in style, with everything you need at your fingertips.
---
4. Pipeline Workspaces
Pipeline is proud to be designed by remote workers, for remote workers. Their Brickell location is one of seven workspaces across the US, each one offering a variety of meticulously-designed areas for ambient working.
Memberships are available for individuals or teams, and you can select which level of access you would like. There's a flex option for those who will come and go and don't require the private space to store items overnight, or you can choose to have a dedicated desk, which you can customise according to your needs.
Every membership provides 24/7 access, high-speed wi-fi, and mail handling.
---
5. The Hive at Brickell
Offering a much homelier vibe than its alternatives, albeit at the expense of some of the more luxurious amenities, The Hive is a coworking space designed for comfort. They provide the opportunity to work at designated desk or in a private meeting room on an hourly, daily, or monthly basis, making it a good destination for those who don't require a consistent workspace.
Moreover, it's possible to purchase a set number of hours to use over any amount of time – a flexible approach that is sure to entice many. It's also set apart from the larger, less personal coworking spaces in Miami by the helpful, friendly staff.
Whether you're just looking for someone to chat to in your breaks, or require help to organise and execute a business meeting or event, The Hive has the people for you. Frequent coworkers also cite the excellent coffee as a key attraction!
---
6. CoSuite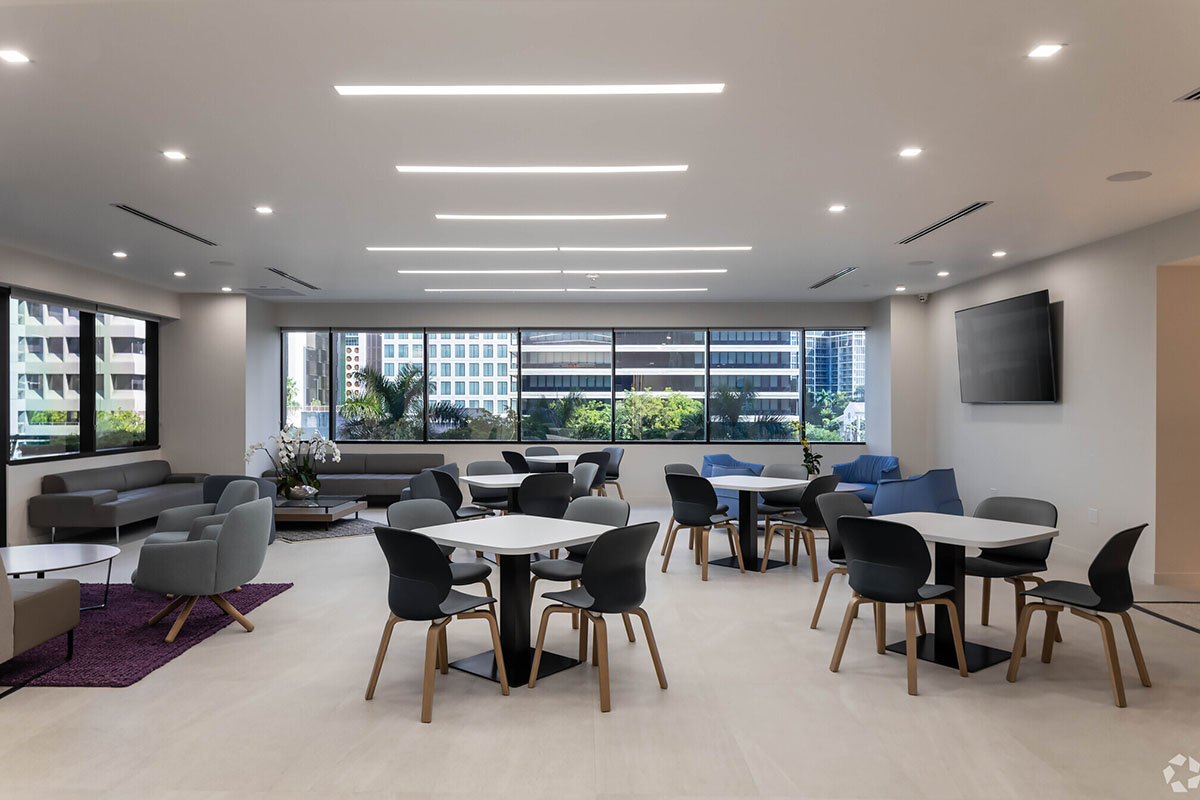 CoSuite is a strong choice of coworking space for businesses and teams, rather than individuals. The modern, newly-built office suites offer the fundamentals in coworking – high-speed wi-fi, receptionists assistance, and mail handling – as well as additional features such as onsite tech support, private phone booths, and 24/7 security.
Their private meeting rooms and conference spaces are available to hire by the hour as well as part of a monthly membership, and they also offer a training room suitable for growing businesses. Members praise CoSuite's cleanliness and accommodating staff.
---
7. Industrious
Industrious Brickell is one of the best coworking spaces in Miami for hybrid workers. Their memberships allow access to onsite coworking spaces as well as virtual offices and online conference tools, providing an impressively flexible service. Furthermore, with over 100 locations across the globe, it's possible to combine coworking with your travel schedule,  as every Industrious member is able to book a workspace or conference room at any location.
Members hail from a range of industries and business, contributing to a dynamic and creative coworking atmosphere that champions innovation and productivity. The space is well-equipped with Sayl chairs and a fully-stocked food and beverage unit, as well as offering a dedicated concierge service and unlimited printing.
---
8. Office&Co. International Coworking
If you're looking for an affordable coworking space in downtown Miami, Office&Co is the solution. They offer nine different plans to suit your specific budget and needs, each membership including 24 hour access, unlimited printing and copying, and free coffee!
It markets itself as a prime coworking option for entrepreneurs and growing businesses, as the common rooms and spacious working areas offer easy, informal networking opportunities. The staff rally around workers with tech help and friendly conversation, and members also commend the building's airy, spotlessly clean rooms.
---
9. Capital One Cafe
This trendy destination is less of formal coworking space and more geared towards young professionals after a social hang-out spot to get through work tasks. The free wi-fi, ample plugs and and superb coffee makes it a prime place for caffeinated freelancers who don't want the commitment of paying for a coworking membership.
In addition, there are conference rooms available for use by non-profit organisations, who are encouraged by the cafe to host events and meetups – this access extends to student groups too.
---
10. Work Plus Office
Situated in the most vibrant area of Brickell's financial district, Work Plus allows for private offices to be used on daily or monthly basis, with day passes starting from $65/day for access to an office fully equipped with the necessary technology.
For businesses and teams there are conference rooms available from $80/hour, which also come full-furnished with IT equipment – including a projector and use of secure fiber optic internet. Additional amenities include assigned parking spaces, free refreshments and conference catering services using local restaurants.
The layout is slick and modern, lending itself to a quiet and professional working environment suited to professionals looking for uninterrupted focus. That said, the common areas allow for some much-needed social networking during work breaks.
---
11. Regus One Brickell
Regus One Brickell is one of the newer spaces on the coworking Brickell scene. Set up over three floors, this modern space is quickly becoming one of Brickell's favourite coworking spaces. This is largely due to the clean, chic interiors that look out across the river and promote an altogether welcoming environment perfect for any professional.
It's well-situated next to a number of transport options, as well as being only a short walk from some of Brickell's finest bars and foodie hotspots. Their meeting rooms are available to hire by the hour, while office spaces can be subscribed to per person, per month. Currently, there are 64 private offices, 18 coworking desks, and four meeting rooms, but this is sure to expand in the coming year as word spreads of this trendy up-and-coming Brickell coworking space.
---
Whether you're looking as an individual or on behalf of a business team, the urban jungle that is Brickell is sure to have the answer to your coworking needs. No longer should you have to sentence yourself to the monotonous routine of visiting the same plain office everyday, it's time to switch up your working environment and find a vibrant, professional arena. Brickell's entrepreneurial and business capabilities are expanding by the day, so it's the perfect place to watch your own potential grow, with the help of a stimulating environment found at any one of these top coworking locations.